We can't deny that winter isn't everyone's favorite season for travelling. The days are shorter, darker, and colder. Wouldn't it be nicer to just stay at home and cosy up with fluffy blankets, wooly socks, and hot chocolate than brave the cold winter air? 
Sure, it's much more comfortable but if you're looking to have a memorable winter this 2022, there's no better way than grabbing your jacket and heading outdoors! 
Don't let the frigid temperatures stop you from visiting Ireland's spectacular natural and man-made wonders. In this article, we list down 7 reasons to visit Ireland during the winter. 
1. Less touristy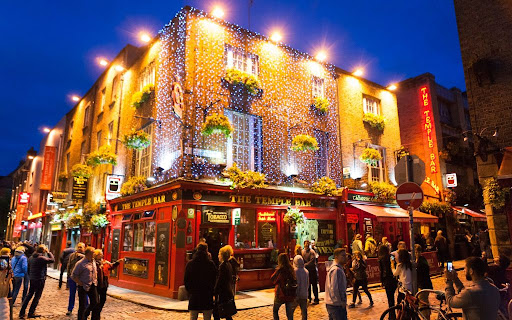 Want to see Ireland's top-rated attractions and beautiful sceneries without mingling with a huge crowd? Winter, especially the weeks before the major holidays, is the perfect time to visit. Since the flock of tourists from summer has left, it's definitely quieter and less touristy. 
Go ahead and visit the famous attractions including the Ring of Kerry, Cliffs of Moher, Killarney National Park, and more. Just make sure to check its business hours online to avoid inconvenience. 
Read more on americansmagazine
2. Splendid, glistening landscapes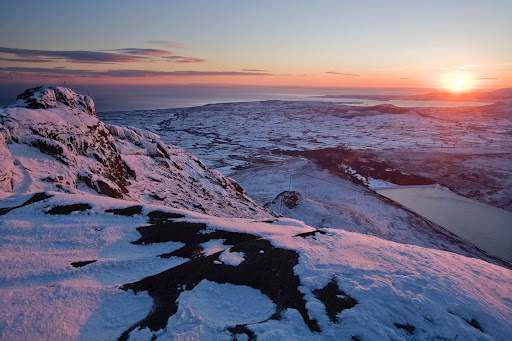 Despite the rain, cold, and gloomy skies, Ireland still gives a visual treat to anyone who's travelling during the festive months. You may not experience a White Christmas here (because it doesn't snow that much) but you'll enjoy how the natural attractions, man-made landmarks, and cityscapes embrace the cold season. 
Revisit your favourite Ireland attractions and see how winter changes the overall ambiance of the destination. You may also check out the following attractions in Ireland that look even more spectacular in winter: 
Grafton street for festive Christmas shopping

Belfast's Christmas markets in the square

Strandhill Beach with the backdrop of Knocknarea Mountains

Mourne Mountains, covered in a thick blanket of snow

Cobh (Cork) for a more colourful winter scenery

Powerscourt Estate and Gardens for a winter wonderland experience

Mount Errigal for stunning natural beauty
Love mountain treks and woodland walks? If your winter getaway is based on a hotel in Carlow, you might want to check out Carlow Winter Walking Festival. Travellers of all walking levels are welcome. Here, you'll explore the lush green landscape associated with Ireland's Ancient East. The picturesque Blackstairs Mountains and River Barrow provide the perfect backdrop, making long walks feel like a breeze. 
3. Major attractions step up their Yuletide Season game
Another interesting reason to visit Ireland during winter is that some castles, parks, and farms get dolled up and transform into winter wonderlands and Christmas villages. Expect Santa encounters, enchanted trails, sleigh rides, carousels, Ferris wheels, ice skating rinks, train rides, and more. 
4. Festive Christmas Markets dotted all around the country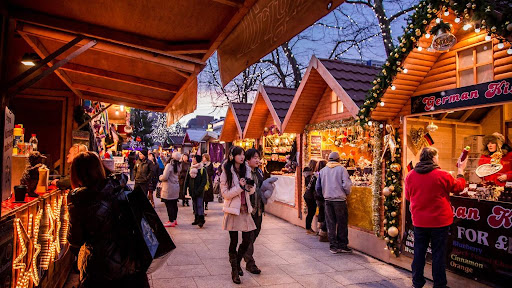 Winter is never complete without visiting Ireland's busy and colourful Christmas markets, which fill the gloomy winter season with festive cheer. It's the perfect time to feast on seasonal food, listen to heavenly music from choirs, and buy unique arts and crafts. The streets, from major cities to humble towns, are illuminated with light installations and festive Christmas decorations too. 
Aside from market stalls and festive decors decking the streets, Ireland's Christmas markets and fairs also feature various activities to enjoy. We've got theme park rides, skating rinks, Santa's house, elf's workshops, horse-drawn sleighs, polar bears, penguins, and everything splendid.
5. Best time to enjoy hearty traditional Irish dishes
There's no perfect time to try the warm and comforting traditional Irish dishes than winter. Irish stew, spiced beef delicacies, and seafood chowder are just some of the must-try dishes guaranteed to warm your tummy (and heart!). Pair these sumptuous dishes with a pint of Guinness and find a pub with a roaring fireplace to complete your unique Irish experience. 
And yes, we have a hot glass of whiskey or Irish coffee, if that suits your fancy. 
6. Majestic Aurora Borealis and stargazing
You don't have to go to Greenland or Scandinavia to see the breathtaking Aurora Borealis — just head near the northern coastline of Ireland and you can bask in its beauty. 
Northern lights are usually visible from 9 pm to 1 am from September through March. Winter tends to be the best time for seeing the auroras due to high geomagnetic activity. For a better viewing experience, check the websites for the KP index (it should be more than 5) and make sure the sky is free of clouds. Check the destination's light pollution too. 
The best spots to catch the Northern lights include the following: 
Rossan Beach in Co. Donegal

Lagg Church, Malin Head on the Wild Atlantic Way

Fanad Head Lighthouse

Inishowen Peninsula

Dooey Beach

Mullaghmore peninsula

Mullet Peninsula. 
7. Winter Solstice
Winter solstice is a spectacular period you can experience in Ireland during December 21st. If you're in places like Slieve Gullion and County Armagh, the winter solstice is arranged during the sunset. Places like Beaghmore and County Tyrone, on the other hand, align the winter solstice with the sunrise. 
And wherever you are in Ireland, winter sunsets and sunrises are always breathtaking so don't miss these golden hours!
Author Bio: Carmina Natividad is a passionate travel blogger who loves street photography, food trips, and writing articles about travel, food, and lifestyle. To know more about hotels and travel blogs, you may visit Woodford Dolmen Hotel Carlow.