Boston Red Sox's revamped batting lineup in the first series of the season showed promising signs of being a dominant and unstoppable force.
Despite the absence of notable players like Xander Bogaerts and J.D. Martinez, the team proved to be historic in their scoring, culminating in a 9-5 win over the Orioles in the rubber match of a three-game series.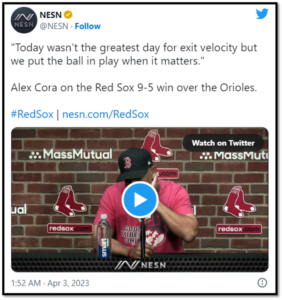 The first three games of the season saw the team's offense score nine runs apiece, setting a club record and becoming only the third team since 1901 to accomplish such a feat.
The team's success can be attributed to the balance from top to bottom, with contributions from various players, including Adam Duvall, Rafael Devers, Alex Verdugo, Masataka Yoshida, Justin Turner, Kiké Hernández, and Triston Casas.
According to Verdugo, the team relies on everyone's contribution and the collective effort of all players.
Although Boston's team led the Sunday game, they had played from behind in the previous two games. The Orioles managed to tie the game at 3-3 in the fifth inning, but the Red Sox responded with three runs of their own in the same inning.
When Baltimore scored two more runs in the seventh inning to close the gap to one run, Boston answered right back with two more runs in the bottom of the seventh. Manager Alex Cora emphasized the importance of using the entire team to win, with contributions from pinch hitters, bunts, and utilizing their personnel.
Cora's offensive strategy is centered around making contact with the ball and putting it in play, which proved successful in the game. However, the Red Sox also need strong pitching performances to be successful, and Sunday's game was a positive step in that direction.
Corey Kluber and Chris Sale struggled in the first two games, but Tanner Houck stepped up and earned the win after pitching for five innings. The pitching staff is still working on finding their rhythm, but the offense has been impressive.
The team is working well together and passing the baton effectively, with newcomer Adam Duvall making a strong impact in his first series at Fenway Park. Although the team has been scoring many runs, they acknowledge that this production level may not be sustainable throughout the season.
However, they are confident in their quality at-bats and believe they will have few stretches of swinging and missing. Overall, Boston is optimistic about their performance and looks forward to the rest of the season.